Secure your Website
Our SSL Certificates provide the highest levels of industry standard security to conduct safe, secure eCommerce transactions, protect passwords, credit card numbers and most importantly, to secure your customer's information.
Secure your Business
The SSL Certificate will secure your website and your customer's browser so all information they enter on any secured page is protected.
WORLD'S STRONGEST ENCRYPTION
256 Bit Encryption

World Leading SSL

Trusted by all Browsers

Trusted by Google

Strongest Encryption
Features with all SSL Certificates
Increase traffic with SSL
Google has now introduced HTTPS as a ranking factor in the search engines and favours websites with SSL encryption. Give your website a nice boost within Google ranking by connecting any SSL's to your domain name.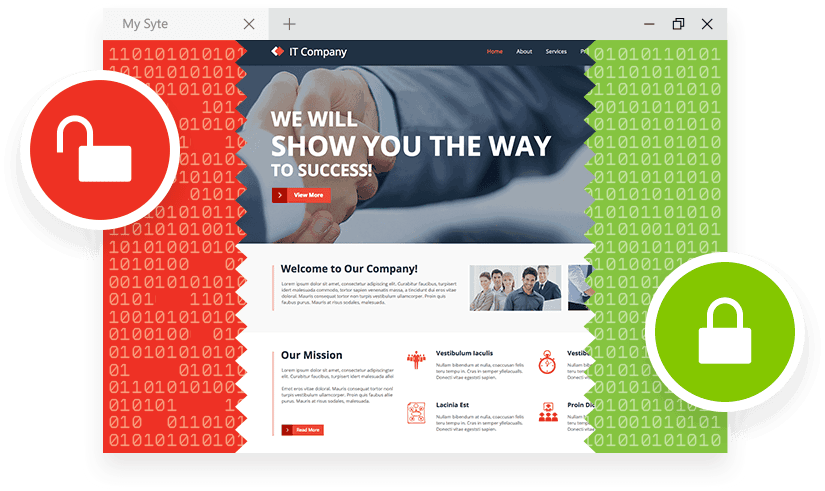 Strong encryption
WebJex SSL Certificates converts your data into virtually impenetrable code using data encryption up to 256 bits. Our certificates also use the most secure encryption available and support both SHA-1 and SHA-2 algorithms. The security of your site is our number one priority.
Fully verified SSL
All Premium SSL Certificates come with a click-to-verify site seal. Displaying the seal on your site shows your customers your site is fully secured and you mean business, building a trust connection.
SSL (Secure Sockets Layer) is the standard security technology used to establish a secure encrypted connection between a browser (user's computer) and a server (your website).
The SSL connection is encrypted and will secure sensitive data, such as credit card information, logins, passwords, forms and all over data exchanged during each user visit (session).
Anyone can identify if a website is secure, view the browser address bar, if you see HTTP this means the website does not have a certificate installed, if you see HTTPS (S' stands for 'secure') this mean the website is secure and contains a SSL certificate.
After you purchase your SSL Certificate, we will connect it to your domain name to ensure your hosting is secure. If your domain is registered with another provider we will provide you the certificate so you can install manually.