Multicraft Review – MineCraft's Leading Hosting Software
Multicraft is the leading control panel that many MineCraft Server Hosting providers use for their customers and it's pretty easy to see why with heaps of perks and advantages that make it a fantastic service for server owners to use but it is also a dream to set up. Check out our Multicraft Review below.
Advantages:
– Extremely scalable: one panel can control hundreds of servers
– Not just a control panel: It's the most powerful Minecraft hosting platform available
– Proven solution: in use by hundreds of game server providers
– Easy mass deployment: fully controllable via an extensive API
– Unique features: FTP server and client, IP auth & much more
– Billing integration available (WHMCS, Ubersmith, …)
– Independent of Minecraft updates
– Translation support: German included, others available
– Under active development with strong focus on user input
– Lots of options for customization
– Slick Ajax driven interface with live log/chat/player list
– And much more!
Multicraft consists of a web based control panel which is overlayed and a host-level application managing the Minecraft servers.
Multicraft runs on both Linux and Windows and one single control panel can manage a mixed set of Linux and Windows nodes at once.
Minecraft updates have never made an impact on updates or have made it necessary to change anything on Multicraft itself and mods like Bukkit should work out of the box… Well should..
It is even possible to add your own custom jars, scripts, and setups by configuring the files further if you have the technical skills to do so. Below you'll find diagrams of a few scenarios Multicraft can be used in.
Both the control panel and the MC server manager on one server: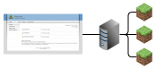 The control panel on one server and the MC server manager on another server:

One control panel to control multiple MC server managers on multiple servers: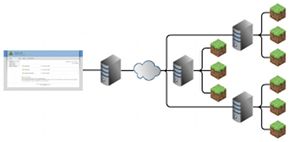 The basic version of Multicraft is free which just allows one server with an announcement broadcasting an advertisement. There are pretty flexible and affordable with pricing options if you were wanting to use Multicraft for server management or as a hosting platform.
To see the list of current features as well as a live demo, please visit: